Image: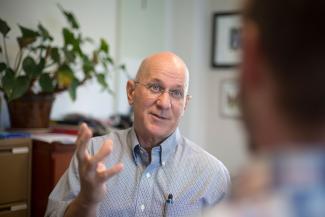 Dr. Rick Tarleton, Distinguished Research Professor and University of Georgia Athletic Association Distinguished Professor in Biological Sciences, has been named Regents' Professor. This is an honor conferred on one faculty member in the university each year.
Regents' Professorships are bestowed by the University System of Georgia's Board of Regents on faculty members whose scholarship is recognized nationally and internationally as innovative and forerunning.
Dr. Tarleton has made research advances that have the potential to transform the lives of the 10 to 20 million people in the world suffering from Chagas disease. His laboratory has established the Chagas Drug Discovery Consortium, which brings together researchers, pharmaceutical companies, and non-profits to improve and to establish new protocols for Chagas disease. Tarleton's research has resulted in findings that explain the host-parasite relationship regarding the immune system, and he has continued his research to encompass the development of diagnostics and the evaluation of drugs and vaccines. Dr. Tarleton's work has resulted in five patents and the founding of a proteomics software company known as BioInquire.
"Through the founding of the Center for Tropical and Emerging Global Diseases in 1998, Dr. Tarleton has helped make the University of Georgia a leader in promoting global health," said Senior Vice President for Academic Affairs and Provost Pamela Whitten. "His research into Chagas disease has implications for millions of people and inspires hope in the fight against one of the world's most neglected parasitic diseases."